Mourad MEKOUAR
Founder of M2T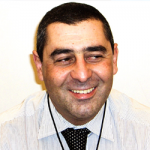 Founder and CEO of M2T, a company specialized in secure payment services and solutions based in Morocco and currently present in Senegal and France, he is also a "Mentor" to young entrepreneurs, notably through CEED and Réseau Entreprendre Maroc. In 2013, he was selected as an Endeavor International entrepreneur.
Mouard Mekouar has already invested in Greendizer and Livremoi.ma as a business angel alongside Maroc Numeric Fund.
Mr. Mekouar is a graduate of Columbia University and San Diego State University in mechanical engineering.