Lamiae Benmakhlouf
Directrice Générale du Technopark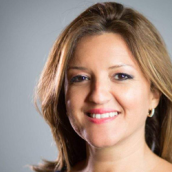 Lamiae Benmakhlouf is the Managing Director of MITC, the management company of Technoparks, since October 2016.
She has occupied several positions at MITC, Administrative and Financial Director (2002-2007), Director of Operations and Support (2008-2011) and Deputy General Manager since 2012.
Lamiae Benmakhlouf holds a DESA in Finance from Mohammed V University in Rabat (2001) and an Executive MBA from Al Akhawayn University (2013).
She is also an alumna of the Techwomen 2016 program, an American program dedicated to women leaders in the Mena region, Africa and Central Asia.
Working in a truly creative and innovative ecosystem, Ms. Benmakhlouf supports several initiatives that encourage entrepreneurship in new technologies and sustainable development and actively participates in career mentoring programs for young entrepreneurs.